Glycogen synthase kinase 3β (GSK-3β) is a highly conserved serine/threonine kinase and named for its ability to phosphorylate and inactivate glycogen synthase. GSK-3β is critical in the regulation of transcription factors and signaling pathways that modulate gene transcription, cell growth, differentiation, and apoptosis, including insulin, Wnt/β-catenin, and NF-κB pathway. Thus, inhibition of GSK-3β might offer a new potential treatment strategy for severe human diseases, such as type Ⅱ diabetes, Alzheimer's diseases (AD), chronic inflammatory diseases and cancer. Especially, emerging data revealed GSK-3β might be a novel modulator of tumor immune responses and is thought to be a new checkpoint for cancer, which further highlights the potential applications of GSK-3β inhibitors in cancer therapy.
Recently, Yong Chu's group in school of pharmacy, Fudan University published an article entitled 'Discovery of Novel Benzothiazepinones as Irreversible Covalent Glycogen Synthase Kinase 3β Inhibitors for the Treatment of Acute Promyelocytic Leukemia' in Journal of Medicinal Chemistry, firstly reported a series of benzothiazepinone compounds (BTZs) as novel covalent GSK-3β inhibitors with high selectivity. The irreversible covalent binding mode was identified by kinetics and mass spectrometry, and the main labeled residue was confirmed to be the unique Cys14 that exists only in GSK-3β. The candidate showed good proliferation inhibition and apoptosis-inducing ability to leukemia cell lines, low cytotoxicity on normal cell lines, and no hERG inhibition, which hinted the potential efficacy and safety. Furthermore, the inhibitor exhibited decent pharmacokinetic properties in vivo and remarkably inhibited tumor growth in the acute promyelocytic leukemia (APL) mouse model. All the results suggested that these novel irreversible BTZ compounds might be useful in the treatment of cancer such as APL.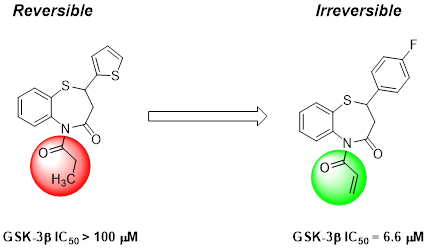 Associate professor Yong Chu (school of pharmacy, Fudan University) and Professor Yunfeng Cheng (Zhongshan Hospital, Fudan University) are co-corresponding authors, and Dr. Peng Zhang (Associate professor in Shanghai Institute of Pharmaceutical Industry)and Zhihui Min (Zhongshan Hospital, Fudan University) are co-first authors.
Full Text Link:https://doi.org/10.1021/acs.jmedchem.0c02254