Recently, Professor Ying Chen's Group (Department of Pharmaceutical Chemistry) and Associate Professor Hongrui Liu's Group (Department of Pharmacology) published an article entitled "Novel Hybrids of 3-Substituted Coumarin and Phenylsulfonylfuroxan as Potent Antitumor Agents with Collateral Sensitivity against MCF-7/ADR" in Journal of Medicinal Chemistry. In this article, a series of NO donor coumarin-furoxan hybrids were synthesized, which showed strong collateral sensitivity to P-gp-overexpressing doxorubicin-resistant human breast cancer cell lines.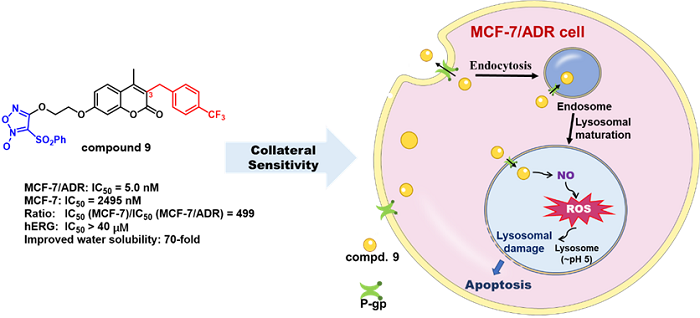 tructure, Bioactivity and Pharmacological Mechanism of Compound 9
It is known that the incidence of breast cancer has reached the first in the world in 2020, and drug resistance is a hard problem in the drug treatment of breast cancer. In recent years, anti-tumor studies targeting lysosomes have gradually attracted wide attention, and the lysosomal membrane has P-gp derived from cell membrane. It is reported that P-gp expression is up to 58.9% in drug-resistant breast cancer. To design compounds that can hijack an overexpression P-gp in the pathological state of drug-resistant breast cancer to enter the lysosome to increase membrane permeability and membrane damage and induce cell apoptosis, so as to achieve the goal of anti-drug-resistant tumor, which maybe a new strategy for the treatment of drug-resistant breast cancer.
In this study, based on our previous research, a novel NO donor coumarin-furoxan hybrid 9 was obtained by further structural optimization of the lead with strong collateral sensitivity to P-gp-overexpressing drug-resistant breast cancer. Compound 9 exhibited strong collateral sensitivity to drug-resistant MCF-7/ADR with 5.0 nM of IC50 values compared with drug-sensitive MCF-7. That is, compounds 9 gave rise to 499-fold selective anticancer potency between MCF-7/ADR and MCF-7. The study showed that compound 9 could enter the lysosomes of MCF-7/ADR, to release effective concentration of NO, further produce reactive oxygen species (ROS) leading to increase lysosomal membrane permeability, then release the iconic lysosomal protease Cathepsin D, and induce cell apoptosis. These results imply that the collateral sensitivity of compound 9 to MCF-7/ADR was closely related to P-gp mediated lysosomes damage and apoptosis. In addition, compound 9 showed no significant toxicity to non-tumor cell lines MCF-10A and healthy mice. The solubility was 70-fold higher than that of the lead.
In conclusion, such coumarin-furoxan hybrids have both the intrinsic properties of P-gp substrates and intracellular endocytogenic NO release and ROS formation, thus achieving the purpose of highly selective inhibition of drug-resistant breast cancer. At the same time, these compounds have the advantage of hijacking overexpression P-gp in drug-resistant tumors to enter lysosomes instead of inhibiting its function, so they are able to avoid the toxic side effects caused by the lack of tissue selectivity of P-gp inhibitors, thus showing excellent safety and patent potential. This study results might merit for the discovery of treating drug-resistant breast cancer new drug causing by overexpressed P-gp, which make clinical needs come true.
Zhihui Yu, Ke Wang (master candidates from Department of Pharmaceutical Chemistry) and Mengru Li (a master candidate from Department of Pharmacology) share the co-first authorship of this article. Prof. Ying Chen and Assoc. Prof. Hongrui Liu are the co-corresponding authors. This work was funded by the Basic Research Field of Shanghai Science and Technology Innovation Action Plan and Bio-pharmaceutical Research Project of Shanghai Science and Technology Commission.
The full article is available through the link:
https://doi.org/10.1021/acs.jmedchem.2c00608