Interferon-alpha (IFN-α) has long been used in clinical practice. In 1986, IFN-α was first approved by the U.S. Food and Drug Administration (FDA) as a tumor immunotherapy drug to treat hairy cell leukemia.Tillnow, IFN-α has been widely approved across the world for treatment of a variety of malignant tumors. The safety of clinical usage of IFN-α,as an unmodified recombinant protein, secreted by immune cells, have for a long time been attributed to its natural immuno-regulatory and antiviral effects.However, its clinical application is largely restricted because of the limited efficacy in anticancer immunity.The limitation has prompted research groups around the world to explore therapeutic schemes of IFN-α in clinical oncology.

12 April 2022, "Interferon-α potentiates anti-PD-1 efficacy by remodeling glucose metabolism in the hepatocellular carcinoma microenvironment", is published online in Cancer Discovery, a journal of the American Association for Cancer Research (IF=39.40). This is a collaborative research project led by Prof. Jia Fan, academician of Chinese Academy of Sciences andpresident of Zhongshan Hospital, Prof. Di Zhu from Fudan University, and Dr. Yang Xu, associate professor at Zhongshan Hospital, Fudan University. This study supports a role of tumor glycose metabolism in IFN-α mediated antitumor immunity in HCC and suggest that IFN-α and anti-PD-1 cotreatment is an effective novel combination strategy for HCC patients.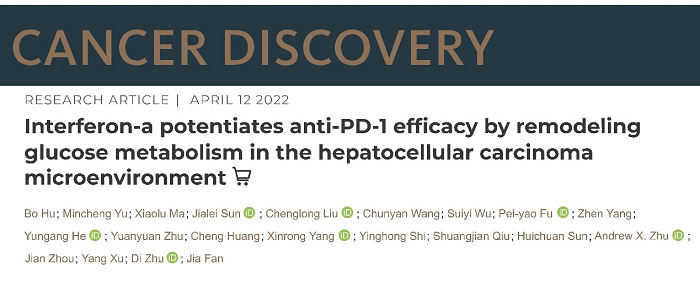 Improving the success of immunotherapies in treating HCC
In order to further study the therapeutic effect of IFN-α combined with PD-1 antibody on hepatocellular carcinoma and explore underlying molecular mechanism, Profs. Fan, Zhu and Xu first constructed orthotopic and spontaneous HCC mouse models. The combination treatment of IFN-α and an anti-PD-1 antibody was found to significantly inhibit the progression of HCC in immunized mice, and the therapeutic effect disappeared completely after the elimination of CD8+T cells. After further detailed analysis of immune cell infiltration in the tumor microenvironment of different treatment groups using high-throughput flow mass spectrometry, the researchers focused on CD27+CD8+T cells - a subset of T cells with strong immune effector function and significantly increased infiltration in the combined treatment group. On the basis of clinical studies, Fan's group found that IFN-α, combined with anti-PD-1 antibody, result in enhanced antitumor activity in unresectable HCC patients.
The authors further explored the molecular mechanism by which IFN-α enhances CD27+CD8+T cell infiltration in tumor microenvironment.It has been found that PD-1 antibody tolerant hepatocellular carcinoma cells demonstrate strong glycolysis ability, while IFN-α can correct the imbalance of glucose metabolism competition between tumor and immune microenvironment. First, IFN-α can selectively act on the specific receptor IFNAR1 on the surface of HCC cell membrane, which is under expressed in immune cells. Thus, glucose uptake and metabolism of HCC cells in tumor microenvironment can be reduced, and glucose concentration can be significantly increased. Additionally, the high glucose microenvironment can activate the transcription and expression of CD27 in CD8+T cells, thus significantly enhancing the cytotoxic effect of CD8+T cells.
Interestingly, CD27+CD8+T cells, with its superior killing and proliferation potential, also overexpressed PD-1 (the classic brake on immune system), which could not be fully amplified when IFN-α monotherapy was used. Therefore, IFN-α and PD-1 mAb form a perfect cooperation, demonstrating excellent combined efficacy in both animal models and clinical patients.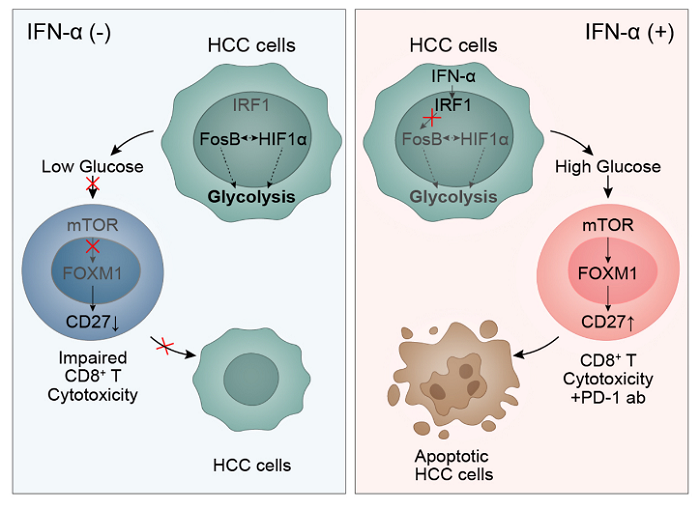 Pharmacological mechanism: IFN-α inhibits the glucose metabolism of HCC tumor cells while increasing glycolysis of T cells, thereby improving the cytotoxicity of T cells by promoting the immune response induced by PD-1 blockade.
Promising combination therapies
The results show that unresectable HCC patients have remarkable clinical responses to anti-PD-1-based immunotherapy combined with IFN-α and the objective response rate was 40.0%. "These impressive results highlight a rational strategy for advanced HCC," says Prof. Jia Fan, the corresponding author of the study.
The responses we observed in mice showed us that the anti-PD-1 immunotherapy improved the effect of the combination treatment with IFN-α, says Dr. Bo Hu, the first author of the study. In clinical study of 15 HCC patients, the combo treatment significantly improved the response of the tumor, leading to a clear survival advantage of the highly aggressive HCC subtype.
The combination of the two drugs led to reprogramming microenvironment, resulted in accumulating high glucose in tumor. This results one subtype of T cells with high metabolic activity can better kill tumor cells, improving T-cell killing activity in the tumor. This combination immunotherapy treatments would have a better chance of success. says Prof. Di Zhu, explaining the underlying mechanism.
Thesefindings suggest that IFN-αshould be further explored for its ability to benefit HCCpatients who have failed to other therapies. the leading expert in HCC, former Harvard Medical Professor Andrew X. Zhucommented.
Results are a first step toward novel combination treatment strategy
The results represent an important first step toward combination treatment of metastatic HCC, for which there are currently no efficient therapeutic options. The researchers believe that the combination treatment may also have the potential to create anti-tumor immunity with other cancer types, resulting in improved therapeutic outcomes.
Prof. Jia Fan, Zhongshan Hospital, Fudan University, Prof. Di Zhu, Fudan University, and Dr. Yang Xu, associate professor, Zhongshan Hospital, Fudan University, are the joint corresponding authors of this paper. Bo Hu, attending physician, Zhongshan Hospital, Fudan University, Mincheng Yu, Xiaolu Ma, Jialei Sun, Chenglong Liu were the co-first authors. This work was supported by Prof. Andrew X Zhu of the Jiahui International Cancer Center, Prof. Qing Zhang of the University of Texas Southwestern Medical Center, Prof. Xun Huang of Lingang National Laboratory.