Recently, a paper titled"A novel role of BK potassium channel activity in preventing the development of kidney fibrosis"was published on the internationally renowned academic journal "Kidney International". The research was completed by XuemeiZhang's group(School of pharmacy, Fudan University).This work not only clarified the important role of BK channel in the TGF-β1/smad signaling pathway, but also provided a new potential target for prevention and treatment of kidney fibrosis.
Chronic kidney disease (CKD) affects millions of patients worldwide and remains a major public health problem. Renal fibrosis is the inevitable consequence of almost every type of CKD regardless of underlying etiology and leads to progressive renal failure and end-stage of renal disease. While there is compelling literature suggesting many potential therapeutic targets for treating renal fibrosis, very few have advanced to the initial phase of clinical trials, and none have shown efficacy in the treatment of kidney fibrosis. Thus, it is crucial to continue to identify and test new potential therapeutic targets for kidney fibrosis.
Fibrosis is defined as excessive matrix deposition that leads to tissue destruction and impairment of organ function. It commonly happensin the process of chronic inflammatory diseases and the local fibroblasts areactivated in the damaged organs. It will also stimulate the secretion of inflammatory mediatorsand the synthesisof extracellular matrix(ECM). More seriously, it will lead to organ dysfunction and even organ failure. At present, the pre-clinical and clinical trials have shown that fibrosis is a highly dynamic change process.
Professor Xuemei Zhang's group found that BK protein expression was decreased in the fibrotic kidneys. Accompanying this was increased fibrotic marker protein expression of fibronectin, vimentin and a-smooth muscle actin and increased mRNA expressions of fibronectin, a-smooth muscle actin, collagen III and collagen I. These changes occurred in the unilateral ureteral obstruction and folic acid models of fibrosis and were more pronounced in BK knockout than in wild-type mice. Activation of BK activity by chemical NS1619 or BMS191011 channel openers attenuated kidney fibrosis in these two models while protecting kidney function in wildtype mice. BK deficiency up-regulated transforming growth factor-β (TGF-β)/transcription factor Smad2/3 signaling in the fibrotic kidney, whereas activation of BK activity inhibited this signaling pathway both in vivo and in vitro. BK channel activation increased the degradation of TGF-β receptors induced by TGF-β1 in vivo and in vitro. Furthermore, in cell lines HK-2, NRK49, and NRK-52E, BK channel activation by NS1619 led to increased caveolae formation and facilitated localization of TGF-β receptors in the microdomains of lipid rafts. The data demonstrated that BK activation has an anti-fibrotic effect on kidney fibrosis by inhibiting the TGF-β signaling pathway through accelerating TGF-β receptor degradation via the caveolae route. Hence, the study provides innovative insight into BK as a potential therapeutic target for the treatment of kidney fibrosis.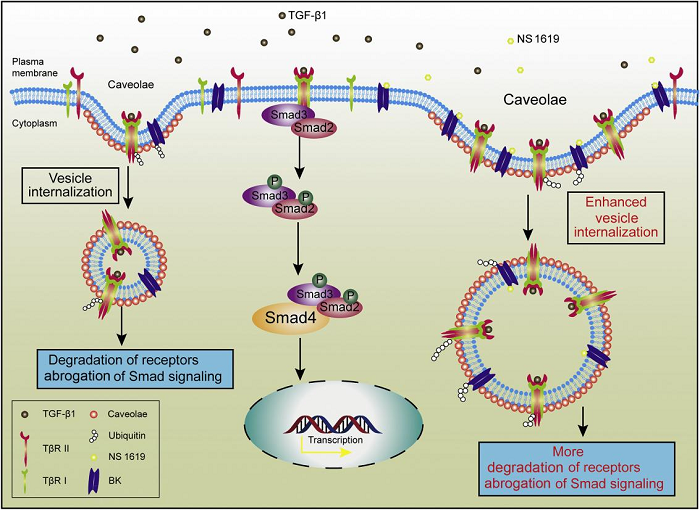 Schematic model of the role of large-conductance Ca2+-activated K+ (BK) channel activation in downregulatingtransforming growth factor-β (TGF-β) signaling by promoting the clustering of TGF-β1 receptors (TβRs) in lipid raft and subsequently leading to degradation of TβRs.
Yinhang Wang(Ph.D. student, School of Pharmacy, Fudan University) is the first author of this paper and Professor Xuemei Zhang is the last corresponding author. The study was supported by the National Natural Science Foundation of China (81973385; 81773801; 82074162).
Introduction to ProfessorXuemei Zhang'Group
The group focuses on metabolic pharmacologyincluding the metabolic gating and response ofmembrane protein, signal transduction mechanism as well as drug target discovery andnew drug development.Currently there are 8 doctoral candidates and 5 master candidates.Eight master and 1 doctoral students have graduated.
Professor Xuemei Zhang received the B.S. degree in pharmacology inShanghai Medical University,Ph.D. in pharmacology in Fudan University andpost-doctoral training in JohnsHopkins University. She is currently thedeputy dean ofSchool of Pharmacy, Fudan University. She has worked as the principle investigator formore than 20 national and provincial-level scientific research projects such as National Natural Science Foundation (5 projects), published more than 70 scientific articles . Professor Xuemei Zhang is the member of National Pharmaceutical Teaching Steering Committee and Chinese Pharmacological Society. She won the first prize of the first national post-graduate educationaward for professional pharmacy degree.