Inflammatory bowel disease (IBD) is a chronic, recurrent intestinal inflammatory disease of unknown pathogenesis, including ulcerative colitis (UC) and Crohn's disease (CD). The global incidence of IBD remains high, and China is the country with the highest incident rate of IBD (3.44 per 100,000 persons) in Asia.Impaired intestinal epithelial barrier function induced by altered intestinal microbial composition is an important trigger of the initiation and recurrence of IBD.Disruption of the integrity of the intestinal epithelial barrier leads to the translocation of intestinal symbiotic flora and pathogenic microorganisms to the lamina propria, which eventually results in intestinal inflammation. Current treatment of IBD focuses on the control of inflammation, but has limited effects on the recovery of intestinal epithelial barrier function, and there is no cure for IBD.
In the intestinal epithelial lesions of IBD patients, the number of Gram-negative bacteria increases and the concentration of LPS is elevated, initiating and aggravating the intestinal inflammation. Outer membrane vesicles (OMVs) derived from Gram-negative bacteria are internalized into cells and activate cytoplasmic caspase-11-dependent signaling pathways by releasing LPS.At present, the exact mechanism that triggers LPS release from OMVs into the cytosol and its effect on intestinal epithelial barrier function remain largely unknown.

In Nov 8st, 2021, a paper titled "SNX10-mediated LPS sensing causes intestinal barrier dysfunction via a caspase-5-dependent signaling cascade" was published in The EMBO Journal. This work was co-led by Professor Xiaoyan Shen at School of Pharmacy, Fudan University, Professor Weixing Shen at Nanjing University of Chinese Medicine and Professor Hua Zhou at Macau University of Science and Technology.The study disclosed thatthe internalization of OMVs in human intestinal epithelial cells promoted the recruitment of caspase-5 and PIKfyve to the membranes of early endosomes by SNX10, which subsequently triggered LPS release from OMVs into the cytosol for the sensing by caspase-5. The activated caspase-5 resulted in Lyn phosphorylation, which induced the nuclear trans-localization of Snail/Slug, leading to the downregulation of E-cadherin and the disruption of intestinal epithelial barrier function. The work uncovers a new signaling axle in which scaffold protein SNX10 provides a platform for the assembly and localization of molecules involving in LPS release, sensing and signaling transduction. This study reveals a new molecular mechanism of IBD intestinal epithelial barrier dysfunction and provides drug targets for the prevention and treatment of IBD.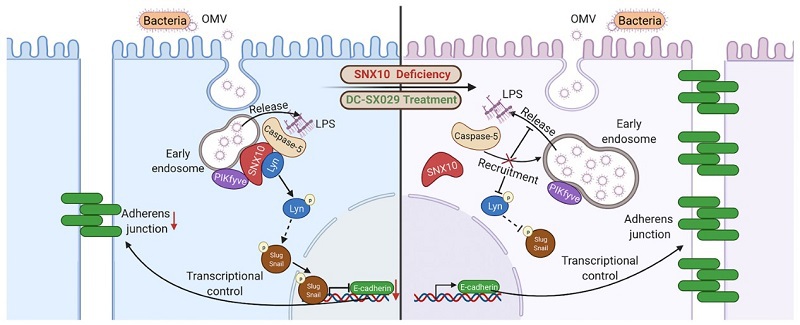 Xu Wang and Jiahui Ni (Ph.D. candidates from the School of Pharmacy, Fudan University) and Yan You (a lecturer from School of Pharmacy, Fudan University) shared the co-first authorship of this article.The study was supported by the National Natural Science Foundation of China, Shanghai Pujiang Program, Strategic Priority Research Program of the Chinese Academy of Sciences from the State Key Laboratory of Drug Research in Shanghai Institute of Materia Medica, Chinese Academy of Sciences and Fudan-SIMM Joint Research Fund. Special thanks to Researcher Mingyue Zheng of Shanghai Institute of Materia Medica for his support and valuable suggestions in the research.
The full article is available through the link:
https://www.embopress.org/doi/abs/10.15252/embj.2021108080