Recently, the research about a novel smart anti-tumor nanomedicine was published online in Advanced Functional Materials. The work was led by Prof. Weiyue Lu of School of Pharmacy of Fudan University in partnership with Prof. Hao Wang of National Pharmaceutical Engineering Research Center. In this work, a tumor microenvironment-responsive bortezomib-nanomedicine was designed to overcome the disadvantages of bortezomib, such as poor biostability and high toxicity, which might achieve a breakthrough in bortezomib's clinical application for solid tumor therapy.
Bortezomib, a first-in-class therapeutic proteasome inhibitor, is mainly used for the treatment of multiple myeloma and lymphoma in clinic. Although the in vitro experiments have proven that bortezomib can kill several solid tumor cell lines, it is unable to be applied in solid tumor therapy due to its poor biostability and high toxicity. As a boric acid drug, bortezomib can readily chelate with the poly-hydroxyl compounds. The commercial preparation of bortezomib is the chelation form of bortezomib-trimer and mannitol. However, bortezomib can easily chelate with certain reactive functional groups present in plasma proteins (such as hydroxyl or amino groups), which causes the reduction or the loss of its antitumor activity and brings side effects.
To solve the above-mentioned problems, Prof. Weiyue Lu and Prof. Hao Wang joined hands to design an amphiphilic PEGylated dendrimer modified with dopamine molecule, which could react with bortezomib in organic solvent to create a borate-prodrug. Thus the boric acid group of bortezomib was protected in blood circulation, leading to the improvement of biostability and the reduction of toxicity. However, the prodrug could release the prototype drug in acidic environments of tumor tissues and tumor cells. Moreover, the prodrug was mixed with PEG-PLGA and RGD-PEG-DSPE to form the bortezomib prodrug-based nanomedicine, which could cross the blood-tumor barrier, deliver the drug to the tumor parenchyma via the targeting ability of RGD molecule and achieve accurate annihilation of solid tumors.
The results indicated that tumor growth was significantly suppressed after the treatment of tumor microenvironment-responsive bortezomib-nanomedicine on the subcutaneous xenograft animal model with reduced toxicity. The work is expected to expand the anti-tumor spectrum of bortezomib in clinical application.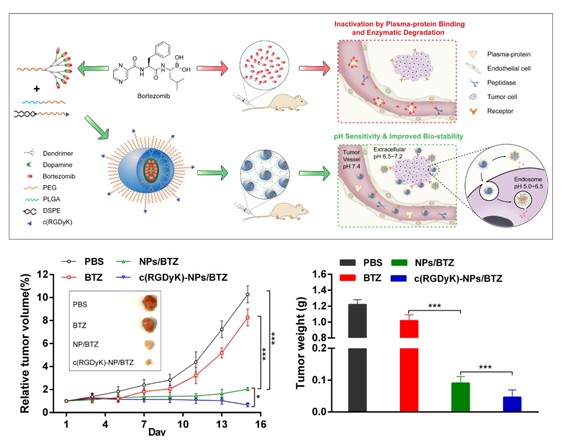 The schematic of tumor microenvironment-responsive bortezomib-nanomedicine and anti-tumor effect thereof in animal model
Link:https://onlinelibrary.wiley.com/doi/10.1002/adfm.201807941