With rapid population aging and the prevalence of electronics, diseases in fundus oculi, such as age-related macular degeneration and proliferative diabetic retinopathy, have been the leading cause of blindness worldwide. For example, age-related macular degeneration incidence is about 8% in people over 40 years old. Due to the particular protective mechanisms of the eye, it is difficult to achieve the effective concentration at the fundus oculi via topical or systemic routes. Intraocular injection is the major administration route for posterior ocular diseases in clinic. However, this invasive way requires skilled clinician and professional equipment, and would sometimes cause side effects such as endophthalmitis, retinal detachment, and increased intraocular pressure, resulting in a quite low patient compliance. Recently, a work published in ACS Applied Materials & Interfaces (DOI: 10.1021/acsami.6b04551) reported a facile self-assembled complex for noninvasive retinal gene delivery. The corresponding author is Prof. Gang Wei, a member of Prof. Weiyue Lu's group, from Key Laboratory of Smart Drug Delivery, Ministry of Education (Fudan University); Department of Pharmaceutics, School of Pharmacy. An essay entitled "Gene therapy in a droplet could treat eye diseases, prevent blindness" has been published at the website of American Chemical Society.
The report considers Prof. Wei and co-workers develop a new topical way for posterior ocular gene delivery, without a needle. "Age-related macular degeneration and proliferative diabetic retinopathy are sight-threatening diseases in fundus oculi, and VEGF has been identified in the pathogenesis of both disease states and is consequently regarded as an important therapeutic target. But intraocular injection with low patient compliance restricts the further development. Prof. Wei and co-workers developed a gene delivery system with a peptide called penetratin, and a synthetic polymer called poly(amidoamine). Testing on rats showed that, the topical instilled complex could rapidly move from the eye's surface to its rear inner lining. It remained in the retina for more than eight hours, enough for gene expression." The ACS senior technology information officer commented, "The findings demonstrate the method's potential for noninvasive gene therapy to treat sight-threatening eye diseases."
The report has also been published in some other media, including Science Daily, United Press International, Medical News Today, Medical Xpress, Biology News, Science Codex, CAS-TWAS Centre of Excellence for Biotechnology, Drug Design & Development and so on. Editor-in-chief of Retina Today has invited Prof. Wei to introduce this National Natural Science Foundation of China funding work in detailed.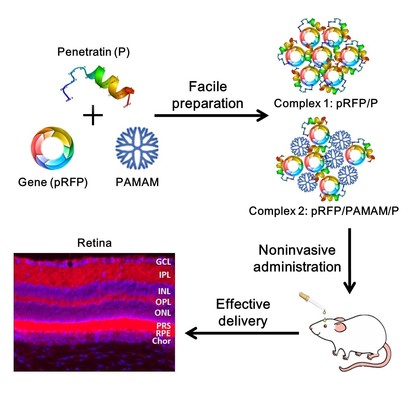 Thegene plasmid, dendrimer and peptide called penetratin self-assemble tonanoparticles, which could deliver the gene plasmid to the retina via topicalinstillation (the red color in the photo).
Schoolof Pharmacy, Fudan University
Key Laboratory of Smart Drug Delivery,Ministry of Education