Recently, Prof. Jianxin Wang's group has developed a dendritic cell (DC) bionanotropic nano-formulation that enables immunochemotherapy combination therapy and amplifies the tumor immune response effect with significant anti-tumor effects. The study has been published in the internationally renowned academic journal Bioactive Materials, entitled Mature dendritic cell-derived dendrosomes swallow oxaliplatin-loaded nanoparticles to boost immunogenic chemotherapy and tumor antigen-specific immunotherapy.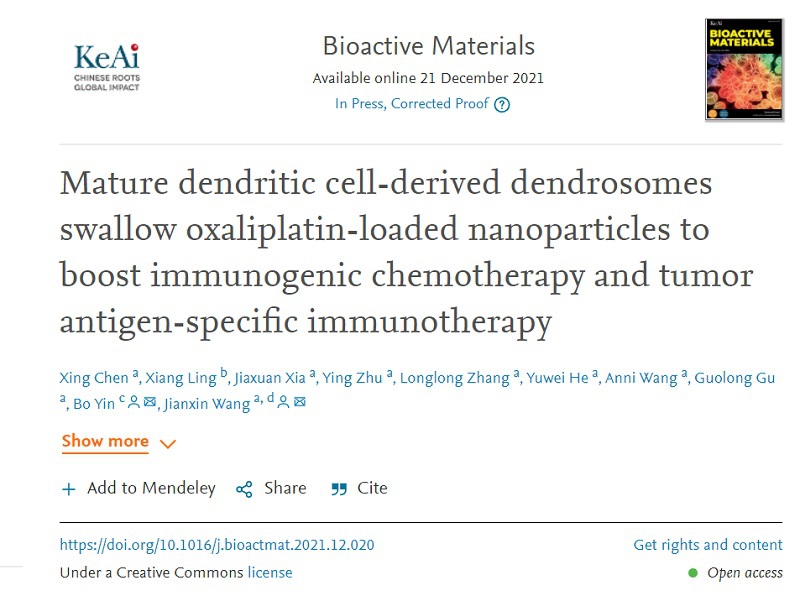 Schematic diagram of NP/mDs interacting with tumor and immune cells to remodel the local tumor microenvironment
DC whole-cell vaccine-based immunotherapy has proven to be one of the most promising oncology treatments. However, the biosafety risks accompanying cell therapy, the lack of antigen stimulation in the immune system, and the formation of an immunosuppressive tumor microenvironment during tumor development have led to very limited benefits in clinical applications. In this study, a tumor antigen self-presenting DC vesicle was first designed and constructed using bionanocarrier technology, and this functionalized DC vesicle not only has the immunostimulatory ability of parental cells, but also avoids in vivo safety risks. In this paper, the above tumor antigen-sensitive DC vesicles were wrapped on the surface of nanoparticles loaded with oxaliplatin by ultrasonic extrusion to prepare a tumor-targeting bionic carrier system consisting of mature dendrosomes fused with redox-responsive nanoparticles (NP/mDs).
When NP/mDs are ingested by tumor cells and oxaliplatin is released, tumor immunogenic cell death (ICD) can be induced. Meanwhile, tumor antigen and damage‐associated molecular patterns (DAMPs) molecules can be released to recruit DC for antigen processing and presentation and generate immune response. DC vesicles located outside of NP/mDs can also directly present autoantigens to DC cells and T cells, induce DC maturation and T cell activation, exert immunostimulatory effects, and synergistically enhance tumor-specific immune responses. The system showed good tumor treatment efficacy and safety in a CT26 mouse tumor model. The combination of PD-L1 blockade treatment further induced sufficient activation of T cells, and the multi-pronged approach significantly inhibited the proliferation rate of CT26 tumors, established long-term immune memory, and suppressed tumorigenesis and metastasis. The results of this study provide a new strategy for tumor treatment.
Xing Chen, a 2018 PhD student at Department of Pharmaceutics is the first author of the paper. Professor Jianxin Wang and his collaborator, Bo Yin, Deputy Chief Physician of the Department of Radiology, Huashan Hospital are the corresponding authors. The research was supported by both Major Project (81690263) and General Project (81773911) of National Natural Science Foundation of China.
Link to the paper: https://doi.org/10.1016/j.bioactmat.2021.12.020