Inflammatory bowel disease (IBD) is a chronic, relapsing immune-mediated gastrointestinal disease with complex etiology. The incidence and prevalence of IBD have increased rapidly in developing countries over the past few years. High recurrence rate and severe complications have brought great challenges to the IBD drug discovery. In view of the key pathological abnormalities of IBD in immune system, the development of multi-target drugs, which could simultaneously regulate multiple biological targets and inflammatory cytokines to restore the physiological balance, has become a new strategy for the clinical treatment of IBD. The nuclear receptor retinoic acid receptor-related orphan receptor γ-t (RORγt) is a key regulator of the developments of T-helper 17 (Th17) cells and the production of IL-17. The inhibition of human dihydroorotate dehydrogenase (DHODH), a rate-limiting enzyme of pyrimidine de novo synthesis, blocks lymphocyte activation via metabolic stress and leads to reduction of pro-inflammatory cytokines, such as IL-17 and TNF-α. Both RORγt and DHODH are potential drug targets for the treatment of autoimmune diseases in clinic.
Recently, Yonghui Wang's Group (School of Pharmacy, Fudan University) and Jin Huang's Group (School of Pharmacy, ECUST) published an article entitled 'Discovery of Orally Available Retinoic Acid Receptor-Related Orphan Receptor γ-t/Dihydroorotate Dehydrogenase Dual Inhibitors for the Treatment of Refractory Inflammatory Bowel Disease' in Journal of Medicinal Chemistry, which was selected as a cover art of the journal. In this article, a new strategy of RORγt/DHODH dual inhibition was developed for the treatment of IBD. A series of tetrahydrobenzothiazole compounds were discovered as RORγt/DHODH dual inhibitors, which showed decent anti-inflammatory activity in in vitro and in vivo models.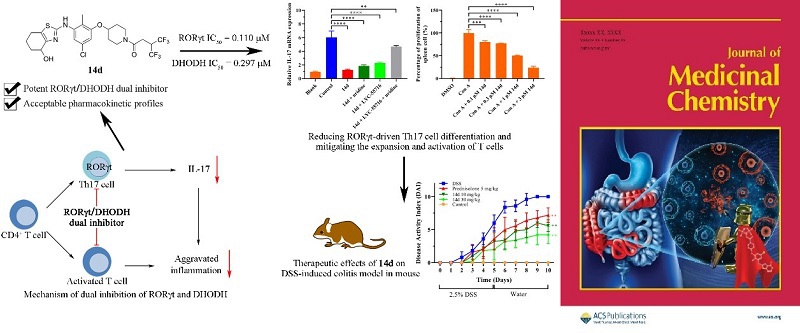 The synergistic effect of the drug combination of RORγt inhibitor and DHODH inhibitor on the treatment of IBD was firstly confirmed. Subsequently, a series of novel RORγt/DHODH dual inhibitors were designed and synthesized. These inhibitors not only reduced RORγt-driven Th17 cell differentiation but also mitigated the expansion and activation of T cells, which may provide enhanced anti-inflammatory effects in together. With acceptable metabolic stability and mouse pharmacokinetic profiles, the representative compound 14d exhibited remarkable anti-inflammatory activity towards dextran sulfate sodium (DSS)-induced acute colitis in mice. The research results for the first time demonstrated the valuable clinical potential of RORγt/DHODH dual inhibitors in the treatment of IBD.
Ji-An Chen (a Ph.D. candidate from the School of Pharmacy, Fudan University), Hui Ma (ECUST) and Zehui Liu (ECUST) share the co-first authorship of this article. Prof. Yonghui Wang, Assoc. Prof. Qiong Xie (School of Pharmacy, Fudan University) and Prof. Jin Huang (School of Pharmacy, ECUST) are the co-corresponding authors. This work was funded by the National Natural Science Foundation of China, the Shanghai Municipal Science and Technology Commission and the Original Research Personalized Support Project of the School of Pharmacy, Fudan University.
The full article is available through the link: https://doi.org/10.1021/acs.jmedchem.1c01746