Triple negative breast cancer (TNBC) is the most aggressive breast cancer subtype and is more likely to metastasize than other breast cancer subtypes. Metastasis accounts for over 90% of TNBC-caused mortality in women. The process of tumor metastasis is complex. The seed and soil theory is widely recognized in the metastasis mechanism, that is, the circulating tumor cells (CTC) invading into the circulatory system in vivo are compared to the seeds, and the metastasis nichs (MN) of CTC are compared to the soil. The seeds need appropriate soil to grow, which means that CTC can colonize at the metastatic site and finally grow into metastatic tumorwith the help of MN. Although liposomes have been widely used as drug nanocarriers in TNBC treatment, limited CTCs capturing efficacy and CTC–supportive MN are two main obstacleshampering the clinical translation of conventional liposomes for the treatment of metastatic breast cancers. Traditional delivery strategies, such as ligand modification and immune modulator co-encapsulation, are complex, laborious, and inefficient, which brings difficulties for large-scale production.
Recently, a paper titled "Versatile ginsenoside Rg3 liposomes inhibit tumor metastasis by capturing circulating tumor cells and destroying metastatic niches" was published in Science Advances, a leading international journal. The research team was led by Professor Jianxin Wang from Department of Pharmaceutics. It is the first study to design a simple and highly effective multifunctional ginsenoside liposome, which could capture CTC and destroy MN simultaneously.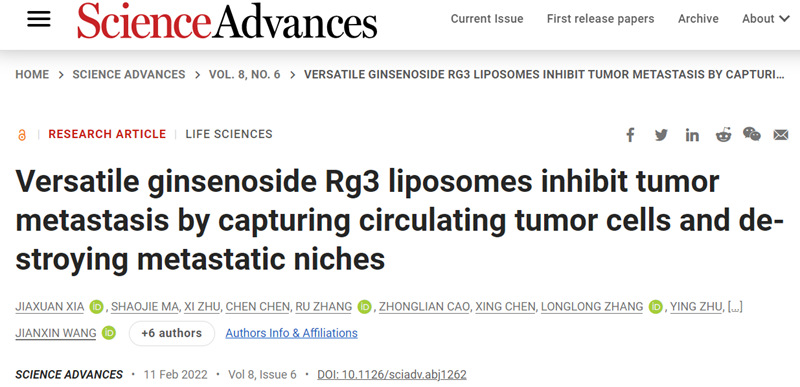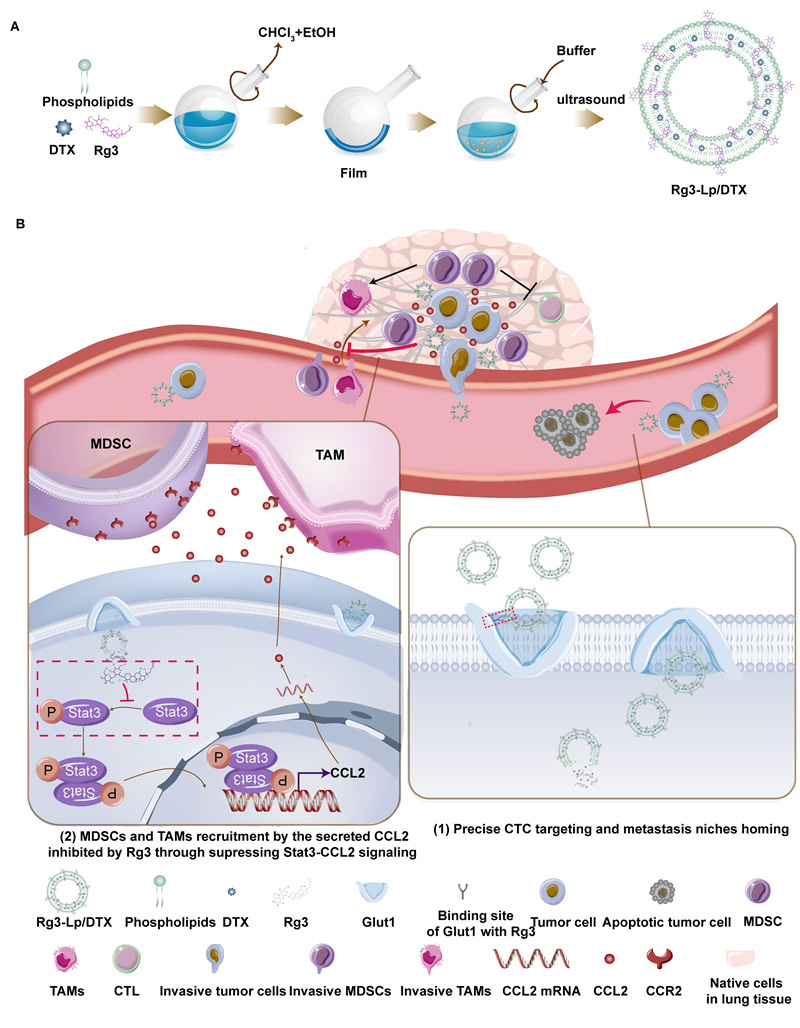 Schematic diagram of Rg3 liposomes preparation and its inhibiting mechanism on metastasis of TNBC
The researchers find thatginsenoside Rg3, a ginseng-derived compound, can replace cholesterol as the liposome membrane material as well as an adjuvant drug. After loading with chemotherapeutic drug - docetaxel (DTX), it can achieve significant TNBC metastasis inhibition effect by capturing CTC and inhibiting the formation of MN.
Rg3 liposomes capture and neutralize CTC - the metastatic "seeds"
As an adjuvant drug, Rg3 is proved to significantly improve the cytotoxic effect of DTX by inhibiting the activation of NF-κB pathway; As a membrane material,Rg3 can intersperse in the phospholipid bilayer and expose its glycosyl on the surface of Rg3 liposomes by molecular dynamic simulation and wheat germ agglutinin assays. Therefore, Rg3 liposomes exhibit much higher CTC-capturing efficiency in vivo compared with cholesterol liposomes via interaction with glucose transporter1 (Glut1) overexpressed on CTC and the targeting effect of Rg3 liposomes disappeared after Glut1 knockdown.
Rg3 liposomes destroy the formation of MN – the metastatic "soil"
CCL2 secreted by CTC is an important factor in MN construction, which can help CTC escape from immune surveillance. After reaching the lungs with CTC, Rg3 liposomes can inhibit the formation of MN and help the immune system recognize and attack CTC by reducing the level of tumor-secreted CCL2.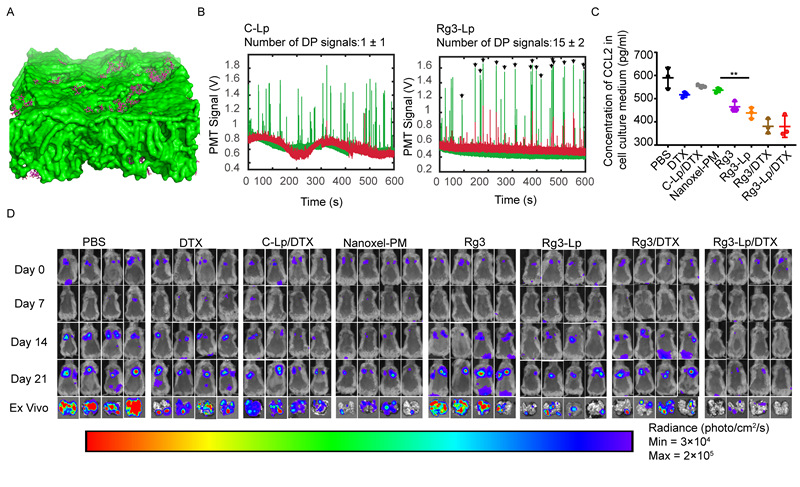 A. The glycosyl of Rg3 (purple) protrudes from the surface of liposome bilayer (green) (it can bind to GLUT1 overexpressed on the surface of CTC); B.Rg3 liposomes actively target to CTC in blood vessels; C. Rg3 liposomes inhibit CCL2 secretion of CTC; D. Rg3 liposomes loaded with chemotherapeutic drugs significantly inhibited the lung metastasis of TNBC.
Altogether, Rg3-Lp/DTX exhibited excellent metastasis inhibition capacity by neutralizing CTC ("seeds") and inhibiting the formation of MN ("soil")---killing two birds with one stone.The strategy has great clinical translation prospects for anti-metastasis treatment, which does not need complex modifications of liposomes for CTC capturing and MN regulation.
Professor Jianxin Wang is the corresponding author and his PhD student Jiaxuan Xia is the first author.
The research team of Professor Wang has carried out a series of researches on the application of multifunctional ginsenoside liposomes in tumor treatment, and has published several research papers in Asian Journal of Pharmaceutical Sciences (2022), Journal of controlled release (2021), Nano-micro letters (2020), Theranostics (2019) and other journals. Among them, non-clinical studies of Rg3 liposomes loaded with paclitaxel have been completed in cooperation with pharmaceutical companies, and the application documents for clinical trial as a class 1 new drug were submitted to NMPA in October 2021.
Link to the paper:
https://doi.org/10.1126/sciadv.abj1262